If you are wondering when is it a good time to sell your house, here's everything you need to know about the current housing market. If you were on the fence about selling your home this year, right now is a great time to list your home. We're experiencing a seller's market in South Lake Tahoe. Here are 6 reasons why it would be an advantage listing your home now instead of waiting to sell it on Spring.
1. We currently have a low inventory of homes on the market – That means we have more buyers looking to buy then homes that are available for sale. Buyers don't have a lot to choose from at the moment so if you decide to put your home on the market you will most likely sell fast and for top dollar, assuming that you price it right from the beginning. Here's a graphic that shows the fluctuations of inventory since 2013. In July 2015 we had an inventory worth of 7.5 months, today we have an inventory of 3.1 months. Whenever we have less than 5 months worth of inventory, we can consider it a seller's market.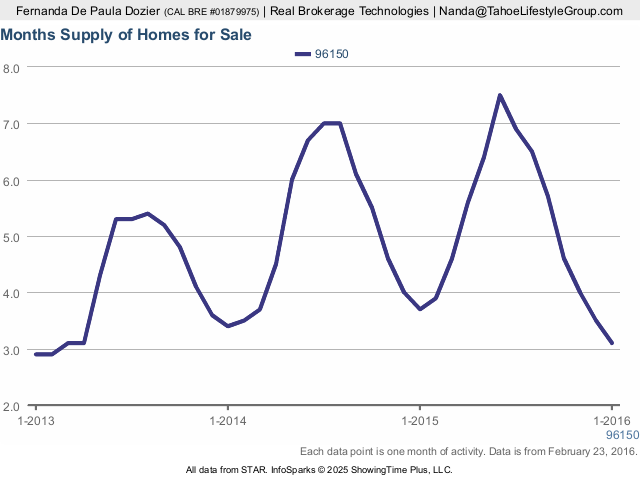 2. Increased buyer's competition – There is a lot of competition in today's housing market. Since there isn't a lot of inventory, buyers are competing for the few listings that are currently available. Some homes are getting offers within only a few days from entering the market. As buyers compete for your home, your chances of getting your asking price increases. For example, in December 2015 the percentage of sold price vs listing price was of 96.7%. However, right now home owners are receiving in average 98.4% of their asking price.
3. Multiple offers – It's possible you may be faced with multiple competing offers to purchase your property. Every time your home gets multiple offers you win because you're in a better position for receiving a higher price and choosing the best terms to fit your needs. Some of the homes out there are selling above their asking price due to multiple offers.
4. Low interest rates – Loan interest rates are currently low and that's a big incentive for buyers. As long as the interest rates remain low the home values should continue to increase in 2016. For this reason, now is a good time to buy and consequently a good time to sell.
5. Home values have increased – In our area home values have increased 3.6% since last year and 9.8% since 2014. You can see this trend on the graphic below. If you need to know how much your South Lake Tahoe home is worth on today's market, please click here to receive a free market analysis.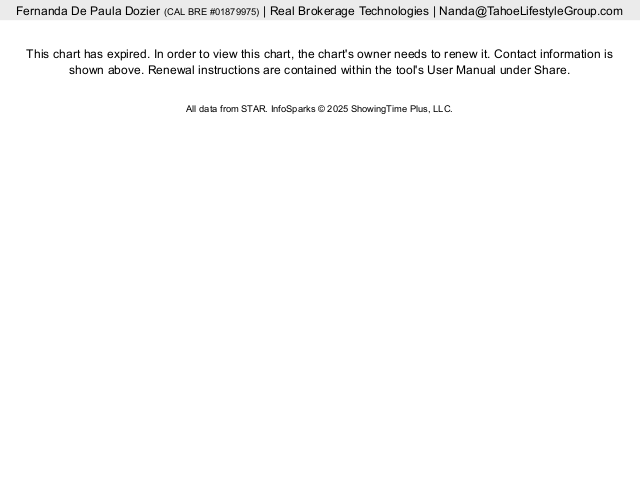 6. Inventory will start increasing in a couple of months – As we get closer to Spring we will start seeing more homes entering the market. As you can see the trends on the first graphic (Months supply of Homes for Sale), the inventory tends to grow as we approach the Summer months. Once there are more homes on the market, we will no longer have that competition atmosphere between buyers because they'll have a lot more houses to choose from.
Take advantage of these conditions to get your home sold for top dollar, while the housing market is in your favor. Please give me a call if you'd like a free consultation, a complete market analysis of your home or just to ask me any questions. I'm also available to show you more details about my marketing plan and the tools I use to get more exposure for your home. You can reach me on my cell phone 530-721-2552 or e-mail me at Nanda@RETahoe.com.